Derma Rolling is an amazing at home do it yourself device that will assist in getting smoother younger looking skin. This claim is proven in evidence based research and many around the world have had great results using the Derma Roller. Ensure to use as directed and to read the information below.
The Right Size for Me
Needle Size

Usage

Frequency

0.25 mm

Enlarged pores, blemishes and fine lines (To start)

Each other day

0.5 mm

Uneven skin, sagging skin, sun damage, enlarged pores, blemishes and fine lines

Shallow acner scars (to start), un even skin, sagging skin, prevention of hair loss 

1-3 days in a week

1.0 mm

Shallow acne scars, uneven skin, sagging skin 

Each 10-14 days

1.5 mm

2.00 mm

Deep acne scars, sun damage, sagging skin, wrinkles 

 Each 3-4 weeks
Available Sizes. Sudden Beauty sells 0.25mm, 0.5mm, 0.75mm, 1.0mm, 1.5mm and 2.0mm roller sizes.

Numbing Cream. We recommend that customers also utilise numbing cream which can be sourced from your local chemist if using the 1.5mm  and 2.0mm needle size as some pain and discomfort may occur. It is also recommended to use an alcohol base face wash before treatment of the 1.5 mm and 2.0mm size. Though numbing cream can be applied across all needle sizes, just ensure your face is washed and clean of numbing cream before derma rolling. 

Right Size, Right Place
It is important to pick the right size derma rolling micro needle, as they all work differently and treat different skin types and damage. Using the wrong size needle or incorrect use of the derma roller can cause damage to your skin. Please see the information below for direction on appropriate sites for the different needle lengths and maximum lengths for areas of the face.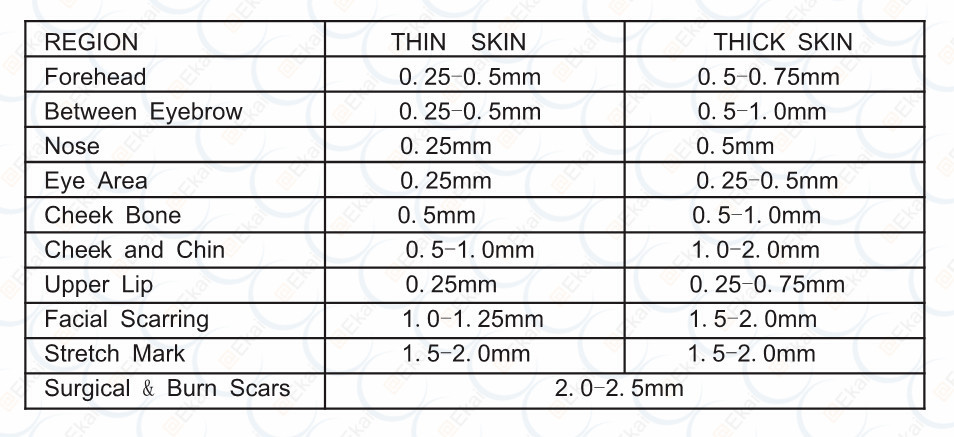 How Derma Rolling Works - The Evidence
Promotes New Collagen

 

- a key component of healthier looking skin. It holds connective tissue together that means more of it allows for more elasticity and youthful skin.

Increased Serum Absorption

 

- allows serums such as our Vitamin C Serum and hyaluronic serum to absorb deeper into the skin, enhancing its results.

Skin Tightening and Scar Reduction

 

- controlled skin injury induces dermal regeneration, resulting in skin tightening and scar reduction.
Research Evidence. Derma Rolling has been around for years and has had countless research studies conducted on its effectiveness, as below. There are clinics that will charge a small fortune for a Derma Rolling session, why pay when you can do it at home, while ensuring to follow safe directional use of the product at all times.
 "Microneedling is believed to stimulate the wound healing cascade and promote new collagen deposition without significant damage to the overlying epidermis. Physical trauma from the penetration of the needle through the stratum corneum creates microchannels with minimal damage to the epidermis. This controlled skin injury induces dermal regeneration. This remodeling process results in skin tightening and scar reduction" 

Reference: (Khetarpal, Shilpi, Jonathan Soh, Mara Weinstein Velez, and Adele Haimovic. "Microneedling." Advances in Cosmetic Surgery 2.1 (2019): 47-53. Web).
 Warnings 
*Never use the Derma Roller on active acne, cold sores, abnormal skin diseases or pimples.
*Never share the Derma Roller with anyone.
*Never use the Derma Roller if reddened skin irritation is still noted from previous sessions.
*Replace your derma roller if blunt/dull or after 2-3 months of use, dependant on usage, area of use and needle size.
*If you have any health concerns also consult a licensed medical doctor.
*Do not exceed the frequency of use, variable by the size of the needle as shown in how to guide.